TYRANITAR
(


)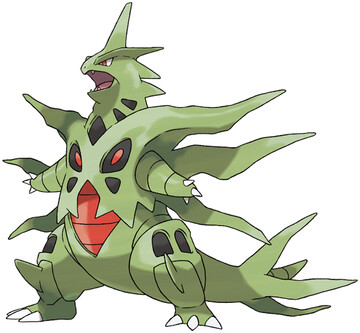 Type
: Rock/ Dark
Abilities
:
Sand Stream (also Mega Ability) - Summons sandstorm when the user enters battle. Lasts for 5 turns, and 7 turns with Smooth Rock.
Unnerve - As long as the user is in battle, the opponent can not eat its held Berry.
Stats
: (HP/ Atk/ Def/ SpA/ SpD/ Spe)
Tyranitar - 100/ 134/ 110/ 95/ 100/ 61
Mega Tyranitar - 100/ 164/ 150/ 95/ 120/ 71
Introduction
:

The roar you hear right now is not from the new Godzilla movie. It's the Godzilla of the Pokémon world smashing through OU of 5 consecutive Generations.
Tyranitar has always been a top-tier threat, be it offensively with gargantuan Attack with usable Special Attack, a mixed tank that can take hits and retaliate back, or simply an overall team supporter with the perfect combination of offensive and defensive presence. Even though this Pseudo-Legendary from Johto has whopping 7 weaknesses, it has amazing bulk with helpful resistances, especially when its Special Defense increases by 1.5 during a Sandstorm, which, is always.
Added with the ability of summoning instant weather, Tyranitar has more than many reasons for being consistently used in Top 10/ 15 of OU since GSC days.
Positives
:

• Breath-taking 134 Attack, with STAB Stone Edge, Pursuit and Crunch to destroy opposition. Better with the help of an extensive Physical movepool including Earthquake, Fire/ Thunder/ Ice Punch, Superpower, Aqua Tail etc.
• 100/ 110/ 100 bulk with +1 SpD during Sandstorm from Sand Stream, meaning gigantic bulk.
• The stats only get better with Mega Tyranitar. 164 Attack with 100/ 150/ 120 bulk, and then, Sandstorm's SpD boost. Blissey with armor, anyone?
• Tyranitar's Dark STAB is better in 6th Gen due to Steel losing resistance to Dark.
• 95 SpA stat is extremely useful with Tyranitar's myriad of Special offense: Dark Pulse, Thunderbolt, Ice Beam, Flamethrower, Focus Blast, Earth Power, Surf etc.
• This pseudo-legendary also has considerable support moves such as Stealth Rock, Thunder Wave, Taunt, or set-up moves such as Dragon Dance, Rock Polish, Curse or Hone Claws.
• Can use a wide range of different items really well. Other than Tyranitarite, a regular Tyranitar can opt for Leftovers, Assault Vest, Choice Band, Choice Scarf, Life Orb or even Smooth Rock.
• Can counter common threats such as Talonflame and Special Attackers such as Greninja, Lati@s, Gengar, Alakazam etc like the monster that it is.
• Vast usability makes the dinosaur a very unpredictable opponent.
Negatives
:

• Rock/ Dark has 7 weaknesses, the most out of any Pokémon. This includes a x4 weakness to one of the most common offensive type: Fighting.
• Tyranitar's only bad stat is its low Speed, which hinders it from being fast enough to hurt the attackers before being KO'd first.
• Weather-summoning Abilities' new nerf means that Sand Stream won't summon infinite Sandstorm anymore.
• Doesn't have any sort of recovery except Rest and Leftovers.
Set #1:

Set #2:

Set #3:

Other Options:

Checks/ Counters:
Teammates Suggestions:Damage Calculation
:
Last edited by The Pieman on Tue Nov 18, 2014 11:03 am; edited 1 time in total

Your math tutor



Posts : 16
Reputation : 2
Join date : 2014-04-29
Age : 20


Location

: somewhere in bangladesh



This thread is obviously incomplete. When I get the time to finish it, I will post it in the group for everyone to read. ~
Similar topics
---
Permissions in this forum:
You
cannot
reply to topics in this forum